"Form follows function—that has been misunderstood. Form and function should be one, joined in a spiritual union."
Frank Lloyd Wright may have famously said these words in 1908, but he was by no means the first to embody them. In fact, the deeper sense of unity that Wright sought in modern architecture had existed centuries before his time as a guiding principle for Native peoples all over the world.
The Tohono-O'odham Nation of the Sonoran desert is one of those groups whose spiritual and physical lives have remained deeply intertwined to this day, through living traditions of craft and environmental stewardship. "In the Tohono O'odham language, we have no word for art… Instead, Native people have always looked to create artful ways of living, seeking ways to blend beauty and usefulness," the renowned Tohono O'odham basket-weaver, educator, and activist Terrol Dew Johnson has said.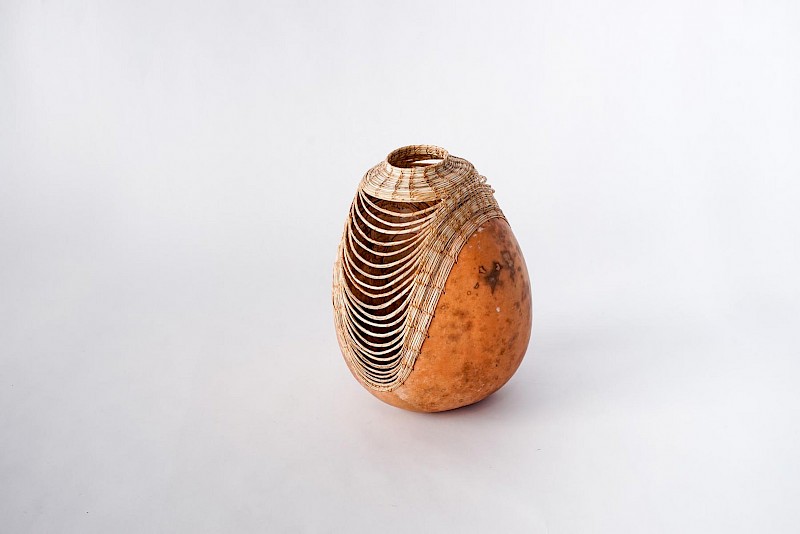 Johnson's artful baskets elegantly demonstrate this all-encompassing philosophy of life in the desert. Some are made from rigid panels, sewn together with many knots tied from local grasses. Others are light and flexible, adapting their shapes to new contents. Each vessel cradles the history of his ancestral culture and speaks to its survival in the face of contemporary challenges.
In the early 2000s, Johnson was experimenting with new approaches to his ancient art form. Building on traditional designs, he began casting gourds in bronze and adding swooping contours of knotted cord.
Across the country in New York City, the emerging architects Ben Aranda and Chris Lasch were exploring the possibilities of computational design as Aranda\Lasch. Their installations from the period are dizzying assemblages of fractal forms that zig and zag in space according to algorithmic patterns. In 2006, Aranda and Lasch happened to see Johnson's works at a basket-weaving exhibition at the National Museum of the American Indian in New York, and had a moment of realization.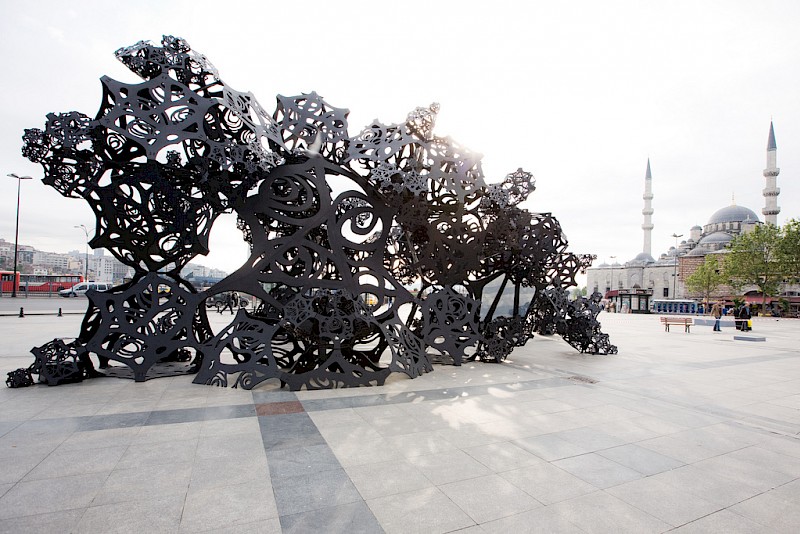 "What jumped out at us were the voices of the weavers as they were displayed on the wall— things like 'you just keep counting,' or 'you go over and under and around and around'—all these things that slowly dawned on us were algorithms," said Lasch. "So we realized that instead of patting ourselves on the back for how we're on the cutting edge of things, maybe be we should be talking to this tradition that figured these things out more than a thousand years ago."
When the architects, who maintain an office in Tuscon not far from the Tohono O'odham Nation, noticed they also had a family friend in common, they cold-called Terrol to propose a collaboration.
"Chris actually came out to Sells [Arizona] at one point, and I was really intrigued and curious because they were talking about designing baskets with the help of computers," said Johnson, "That really fascinated me. I'd never really collaborated with someone in this capacity, especially with a non-Native. I really took this as an opportunity and also as a challenge."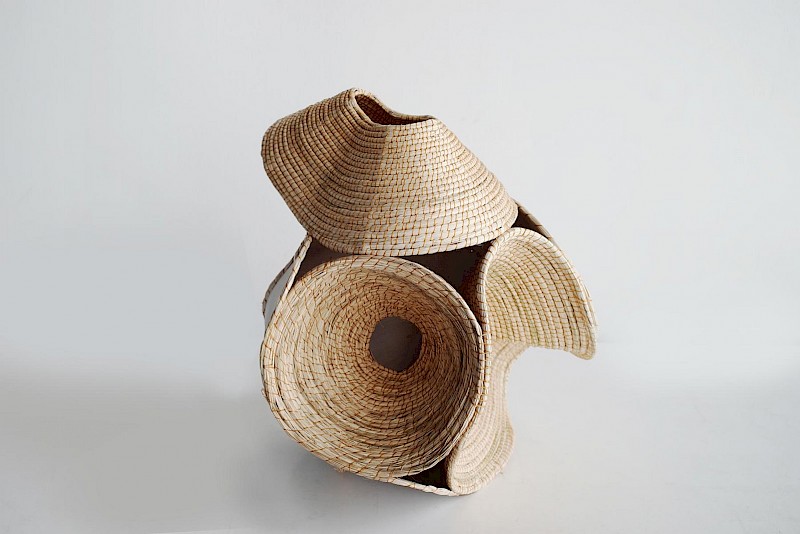 Over a decade later, Johnson, Aranda, and Lasch have created an impressive series of objects that merge traditional weaving and coiling with cutting-edge digital fabrication techniques. By iterating on different formulas that move back and forth between computer-aided geometries and Johnson's deft fingers, the team has produced a series of stunning contemporary baskets now included in the permanent collection of the Museum of Modern Art.
Their collaboration was the subject of an exhibition at MOCA Tuscon this winter entitled Meeting the Clouds Halfway, which presented objects in natural materials and a range of formats, scaling up from the baskets themselves to proposals for new types of desert dwellings. They will bring much of the same work to 2017 Chicago Architecture Biennial this fall, responding to its Artistic Directors' call to 'Make New History' by weaving living Tohono O'odham tradition into the fabric of contemporary architecture practice.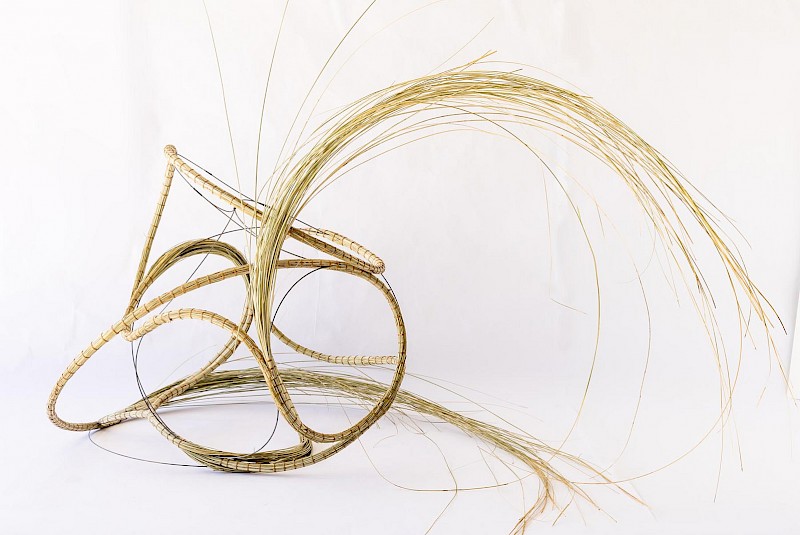 "I think our contribution to the Biennial is this long timeline, from some of the earliest cultural practices through quite modern ways of designing and making things with a computer," said Lasch. "It's the realization that these things that are conventionally thought of as categories, or as ruptures between the historical and the contemporary, or art and craft… it's actually more productive to think about those as continuums."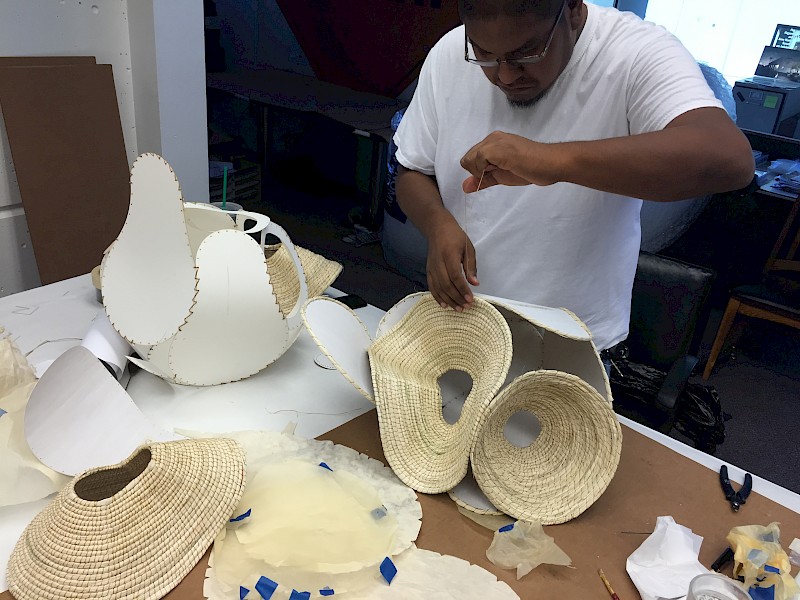 For Johnson especially, exhibiting these new baskets represents an opportunity to transcend the often circumscribed institutional setting in which Native artwork is presented. The Chicago Architecture Biennial will display the baskets in dialogue with contemporary works of design from all over the world, a rarity in an arts establishment that seldom engages with indigenous histories, life experiences, or cultural production.
"I'm really excited to be shown first as an artist, then as a Native artist and as a Native basket-weaver," Johnson said. "One of my goals was to really break out of that Native American realm as an artist and into the mainstream, and this collaboration is really helping to achieve that goal."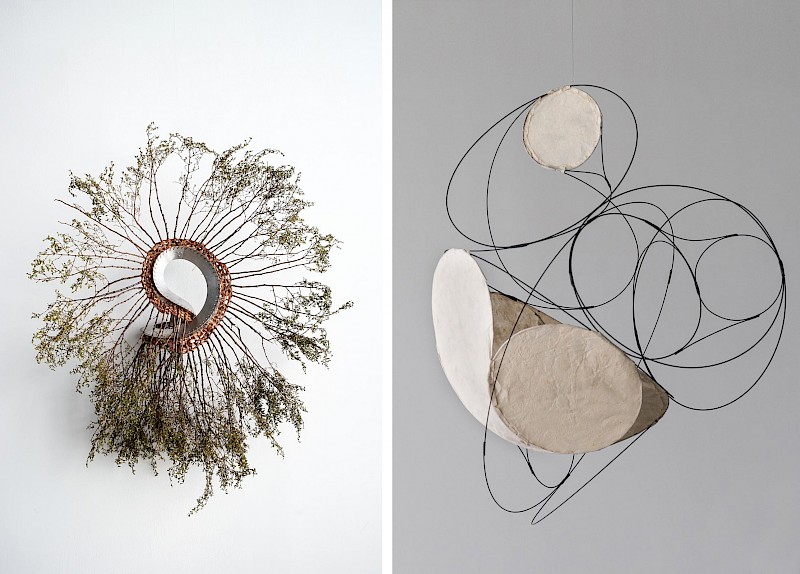 Johnson, Aranda, and Lasch are nevertheless focused on centering the symbolism of the O'odham Himdag, the Tohono O'odham culture and way of life, in the work itself. In one piece from a former exhibition, a swoosh of cedar bark twists into an exuberant spray of yucca. In another, pieces of bear grass are bound together with steel wire to form spare, sinuous vessels. Art is inextricably bound with life, nature with technology, and tradition with the future.
"The big takeaway from this collaboration has been seeing and reflecting on how we can connect what we do to bigger themes that are often kind of implicit in the work and the larger culture around it—things like history, tradition, ritual, and the culture of making," said Lasch. "There's all of this culture and meaning flowing through the object itself in the Native American tradition. Everyday objects are also cultural objects."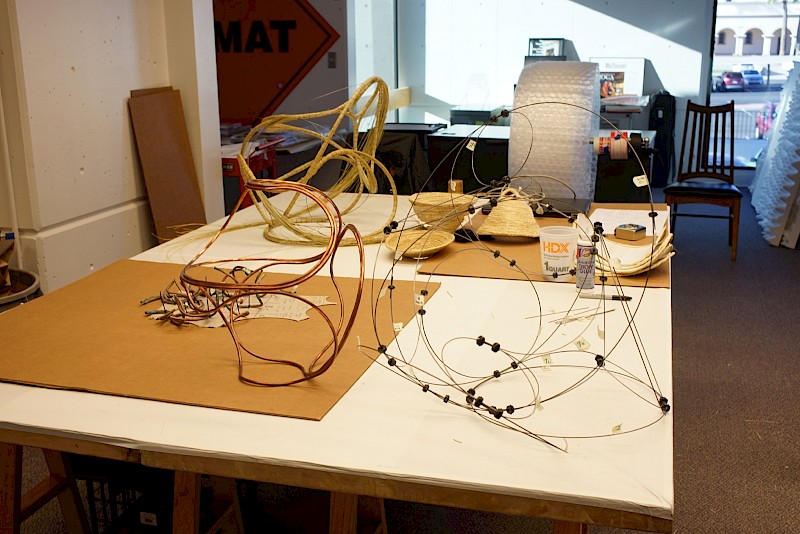 For Johnson, a lifelong advocate for Tohono-O'odham and Native American rights, traditional crafts constitute a language for resisting cultural extinction. And as with any language, weaving has the potential to evolve. Since he was young, Johnson has had the instinct to push boundaries and put his talents in conversation with the wider world—an instinct that's clearly visible in his contribution to the Biennial.
"We've had the opportunity to experiment with different pieces, with wood and with metal, and in these latest pieces with horsehair and vegetation from the Sonoran desert we were really trying to capture an essence of nativeness," said Johnson. "I always try to incorporate some kind of traditional material, if it's a contemporary piece, just to keep those ties together."
Cultural practices make up the foundation of a larger project of community-building that Johnson is leading within the Tohono O'odham Nation. He spends much of his time acting as president of Tohono O'odham Community Action (TOCA), an organization that looks to the Nation's traditional way of life in order to build economic security, food sovereignty, and well-being on the Arizona reservation. In addition to teaching basket-weaving and other crafts, TOCA preserves and serves traditional recipes at its restaurant in Sells, supports Tohono O'odham language classes, and keeps the rituals alive that tie members of the community together and nurture the desert landscape.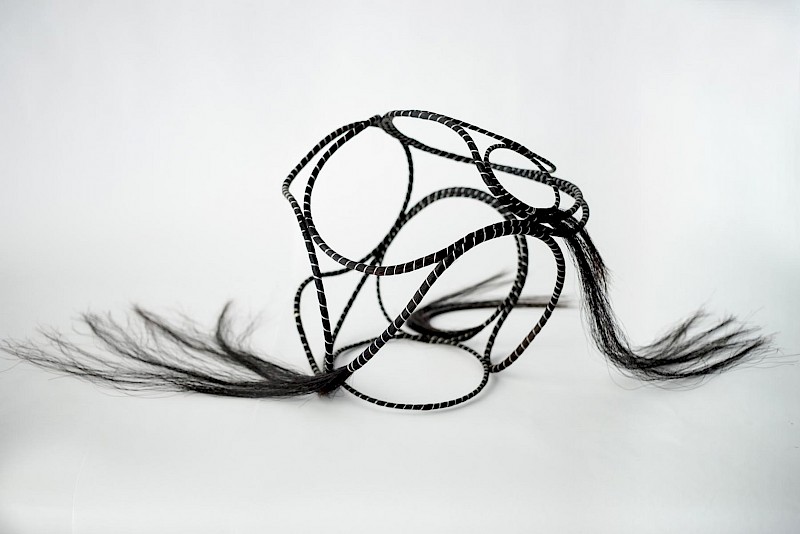 "In everything that I try to do on a personal and professional level, I always bring along the idea of cultural revitalization. I always try to work towards opportunities that will benefit the work that I do in the community," said Johnson. "I'm grateful that Aranda\Lasch understood that I was more than just a basket-weaver and wanted to use this as a tool to educate people who will probably never ever set foot on the reservation where I live."
Johnson, Aranda, and Lasch started making objects together in 2006, but over the years their ambitions have scaled up to address these larger cultural and material issues. More recent designs have included furniture pieces and even ideas for full-scale architectural structures tailored to the desert environment: simple shelters, a seed bank, an outdoor music venue, and even an Olas Ki, a traditional O'odham dwelling.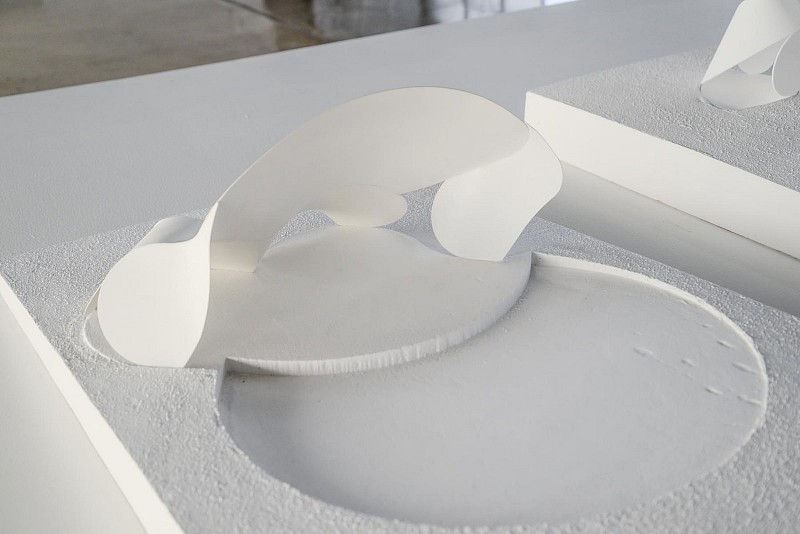 This transition may find its first major expression next year in the form of a full-scale structure. Building on their designs for open-ended gathering spaces, Johnson and Aranda\Lasch are currently working with institutional partners to realize an outdoor performance space in Phoenix, Arizona which would host celebrations of Native heritage and other public events.
The group is also developing architectural visions with the knowledge that climate change has already disrupted centuries-old traditions and routines in the desert's fragile ecosystem. Crops are blooming too early, temperatures are rising, and crucial rainfall is becoming more unpredictable. Johnson, Aranda and Lasch are experimenting with forms of construction that not only channels the history of desert peoples, but may help shield the environment from further degradation.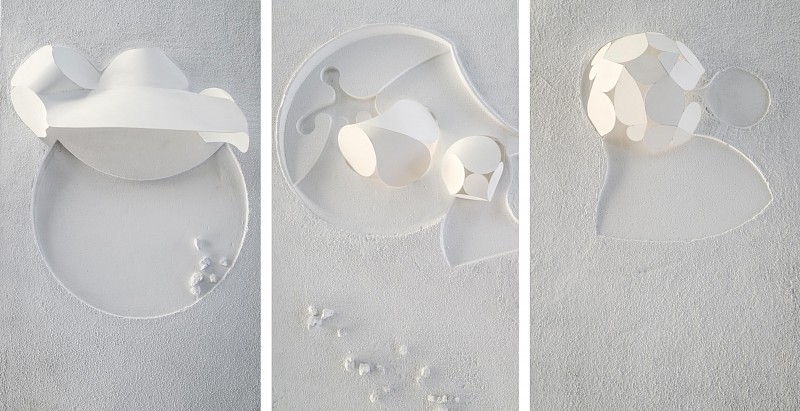 "I was taught that one of the first things our creator taught us was basket-weaving, and then we learned how to make houses from vegetation. Sticks were intertwined, walls were structured, things were put up to create arches and roofs—that's how things were done," said Johnson. "We've been talking about using the same idea for more contemporary buildings out here on the reservation, hopefully for public habitat. Instead of using brick and mortar, using mud and the vegetation in the desert."
As climate change begins to pose an existential risk to desert communities like the Tohono O'odham, their mission to expand cross-cultural understanding has become further entwined with broader discussions about ways of life in the desert and the pursuit of common ground in a rapidly changing world.
"I'm hoping native communities will see that and realize they come from a very rich and resourceful culture, and that it's just a matter of going back and researching how to utilize these skills," said Johnson. "And for the more general public, it's giving them a glimpse into what is happening and what could happen if these collaborations better the community, the environment, and architecture."
Explore more and add your own examples to the Chicago Architecture Biennial's Are.na channel below: