When we think of contemporary architecture in China, we often refer to the megaprojects by international architecture studios that tend to get covered most in the design media. From OMA's CCTV Headquarters and Shenzhen Stock Exchange to the recently completed Tianjin Binhai Library by MVRDV and Poly International Plaza by SOM, these projects dominate urban skylines at a singular scale that suggests they were built to impress.
Beyond individual buildings, China's mega-architecture boom is rapidly developing entirely new cities, a process designed to relieve the country's principal metropolitan areas of their high density, while offering new prototypes for urban life. These highly branded environments are prompting displacement – as a form of rural exodus – and social stress throughout the country, while also ignoring the legacy of traditional Chinese architecture in urban centers.
At this year's Chicago Architecture Biennial, three architecture studios - Archi Union, ZAO/Standardarchitecture and URBANUS - took the stage to represent a lesser-known and more deliberate generation of Chinese design. All three presented research into the long-standing textures of Chinese urbanism and projects that "make new history" by reinventing traditional sites of living: temple complexes, historical districts, and hutongs. Using building materials that have constituted the fabric of Chinese architecture since the very beginning of city building,the architects evolve specific building types into modern prototypes, proposing forward-thinking visions for social gathering and collaboration.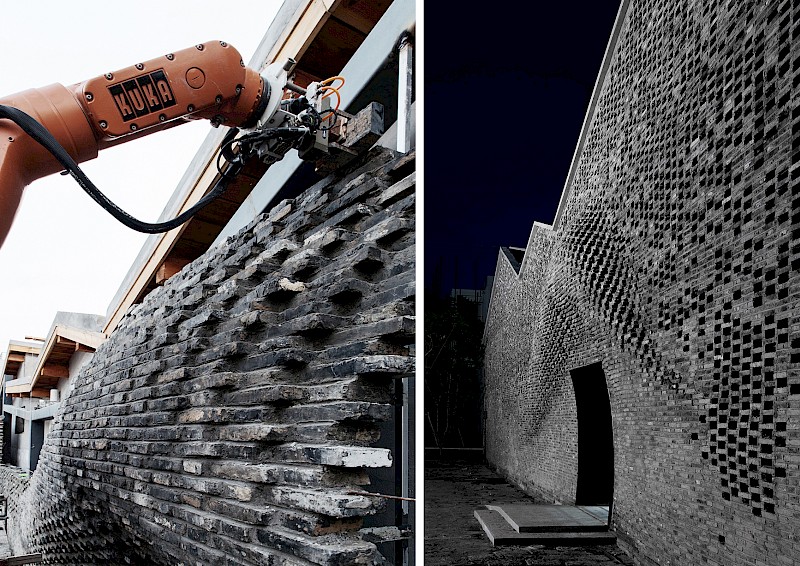 Together, URBANUS, Archi-Union and ZAO/Standardarchitecture represent the misrepresented architects of China. Their work couldn't be further from the globalized urbanism of iconic skyscrapers and instant cities. Instead, it hews closer to the Pritzker-winning work of Wang Shu and Lu Wenyu, whose designs embed the swinging rooflines and intricate plans of historic Chinese structures into far more daring compositions. Chinese architects of this generation also work wonders with humble bricks, tiles and slabs, layering and casting them directly onto structures which might be thousands of years older. Basing their work on these classic types and materials, which have their own extraordinary long histories, they produce architecture that is deeply ingrained within Chinese tradition, society and culture.
By bringing these three firms to Chicago, Johnston and Marklee have shone a light on local architectural practices which continue to persist in China and included them in a cross-cultural dialogue on the reuse and reinvention of the architectural past.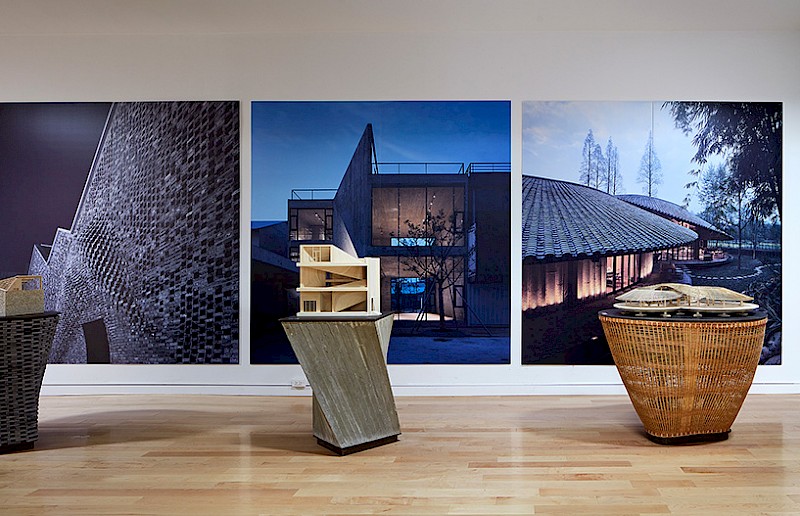 Archi Union's installation, "Robotic Craftsmanship: Making New History with Traditional Materials," is composed of three meticulously-made wooden models of recently completed projects by the firm, each standing atop a base inspired by the signature architectural form for the building, and facing a photographic backdrop of the built work itself. The three projects from left to right are the Chi She exhibition space in Shanghai, the Fab-Union art and cultural center in Shanghai, and the In Bamboo cultural exchange center for the rural community of Daoming in the Sichuan Province of China.
In the first, the existing building was renovated and reinforced with an undulating façade built piece by piece by robotic bricklayers. In the second, the central element of the Fab-Union space is a hyperbolic paraboloid wall cast from poured concrete, which twists through the center of the building to break out the space into more intimate, engaging pockets. Finally, the In Bamboo center is a new structure built on a light, prefabricated steel frame, and topped with a ring-shaped tiled roof supported by a bamboo structure.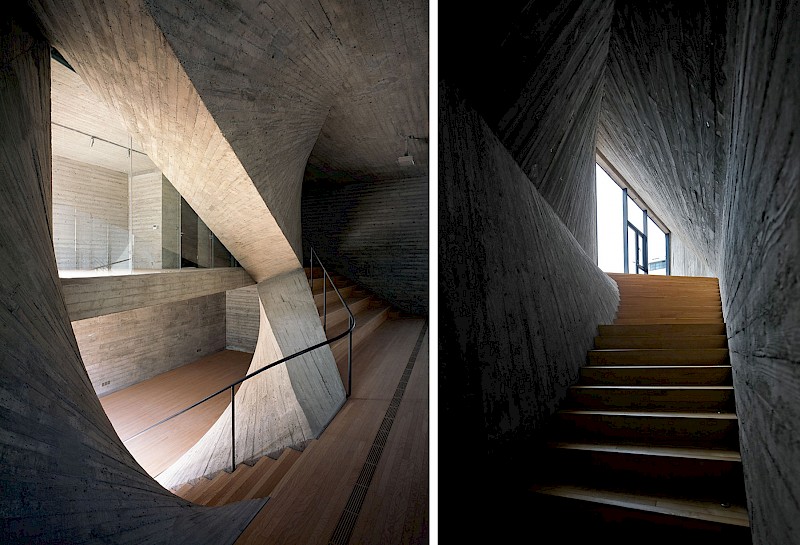 "The beauty of the materials belongs to the local culture and the traditional environment," explained firm principal Philip F. Huan in a video produced by ArchDaily. But here the timeless qualities of those materials are shaped into new forms using new technologies, which the practice is embracing as a means to seamlessly integrate past and future. Archi-Union's work anchors itself in traditional, readily available materials, and imbues them with new meaning thanks to robotic fabrication and cutting-edge technology. In Architectural Digest, Fred A. Bernstein described it as "produc[ing] new buildings with old souls."
In "Make New Hutong Metabolism," ZAO/Standardarchitecture zeroes in on the revitalization, and thus the preservation, of hutongs - the inhabited alleyways in central Beijing which make up the city's historic urban fabric, but are being demolished in to make way for the contemporary city. The exhibition features three different projects that delicately insert new pockets of community life into these dwelling compounds: the Micro Yuan'er Children's Library and Art Centre, Micro Hutong and Co-living Courtyard. The Beijing-based studio – founded by Zhang Ke in 2001 – proposes alternative perspectives, studying infrastructure at all scale so as to explore the potential of "old hutongs and courtyards as generators of communal spaces and catalyst of social interaction."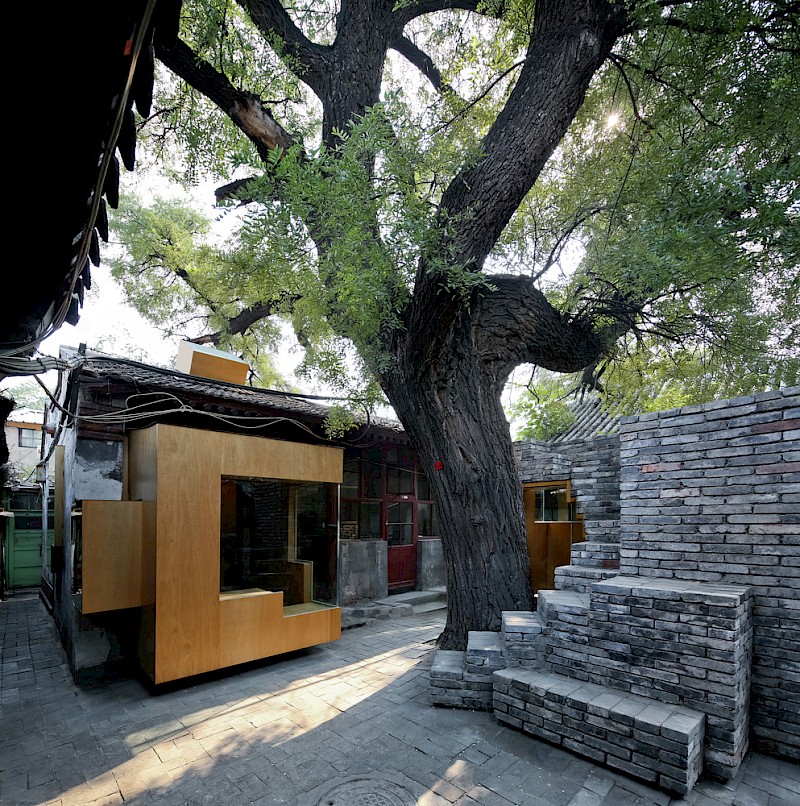 At the Biennial, models and photographs give the visitor a sense of the intimate scale and spatial organization of these contemporary hutongs. Stepped brick additions and glassed-in porches turn the simple courtyard into a stepped landscape where children might explore and neighbors can gather.
URBANUS' Biennial installation examines the effects of restoration, rehabilitation and preservation of Chinese historic monuments. URBANUS was founded in 1999 under the leadership of partners Xiaodu Liu, Yan Meng and Hui Wang and now has offices in both Shenzhen and Beijing. More than an architecture practice, the firm describes itself as a think tank which aims to formulate architectural strategies for building a coherent urbanism in the midst of massive changes reordering the built environment of China's cities.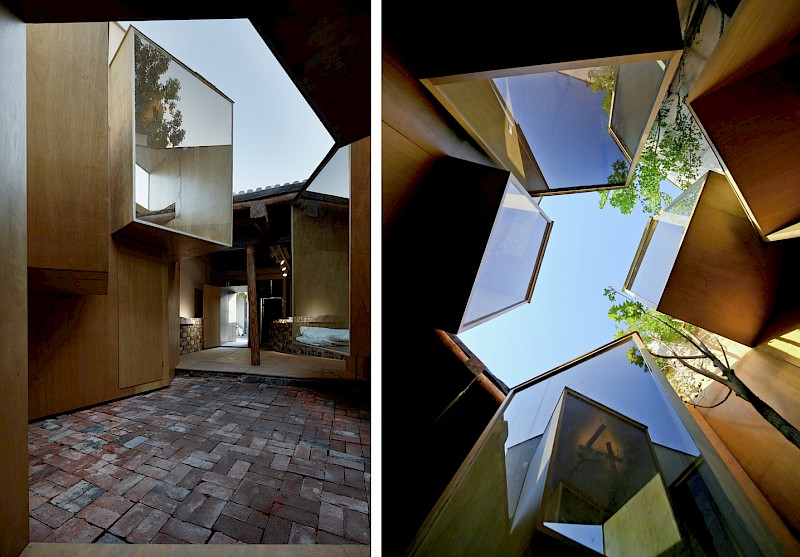 At the Chicago Biennial, URBANUS presented two recent projects. The first is the environmental design for the Five Dragons Temple, the oldest Taoist temple in China, which remained unmaintained for over a thousand years until it was restored as a spiritual center and museum dedicated to ancient Chinese architecture. The second is the rehabilitation plan for Nantou Old Town, aiming to revitalize a historic quarter of Shenzhen. In the context of Shenzhen, a staggering example of rapid urbanization taking over an urban village, URBANUS addressed the complexity of balancing preservation and development.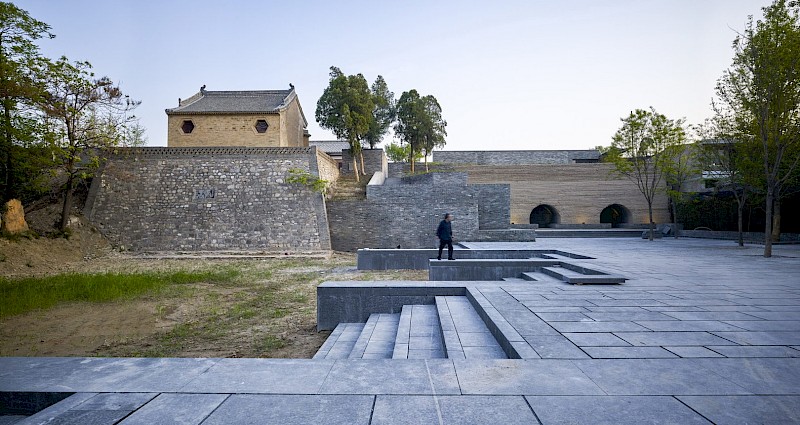 In any discussion of contemporary architecture in China, this current generation of Chinese architects deserves more attention than it has received compared to work by Western "starchitects." New architecture in China is more than megacities and curvaceous opera houses. In fact, local practices like these are building a new vocabulary that extends centuries of history and site-specific building traditions.
The three firms exhibited at the Chicago Biennial represent just a subset of China's emerging architecture scene. Arch Studio in Beijing, More Design Office in Shanghai, Rural Urban Framework and Li Xiaodong Atelier also work in a similar register, which is demonstratively engrained in and inspired by Chinese local sensibility and tradition. By giving the firms who work at a local level a place to discuss their research, international exhibitions like the Biennial can support them in reaching a global audience and building appreciation for an architectural heritage well worth preserving.


Explore more contemporary Chinese architecture and add your own examples by clicking in the Are.na channel below.