The opening weekend of the Chicago Architecture Biennial is coming up fast! And in addition to the largest survey of contemporary architecture anywhere in North America, the 2017 Biennial is spreading out across Chicago with a wide-ranging mix of unique events and exhibitions.
We know there's a lot of architecture and design to see in Chicago this fall, so we made this overview to help you explore the Biennial without missing a thing.
Make New History
The hub of all the action will once again be the Chicago Cultural Center, a "people's palace" that once served as the city's first public library and faces Millennium Park and the lakefront. It will host the main Biennial exhibition, entitled Make New History, which is curated by Sharon Johnston and Mark Lee of the Los Angeles-based firm Johnston Marklee. The Biennial will be free and open to the public from September 16, 2017 to January 7, 2018.
The Cultural Center is located in the heart of the Loop and is easily accessible by car, by public transportation, or on foot within downtown Chicago. For hours and more information on how to plan your visit, click here.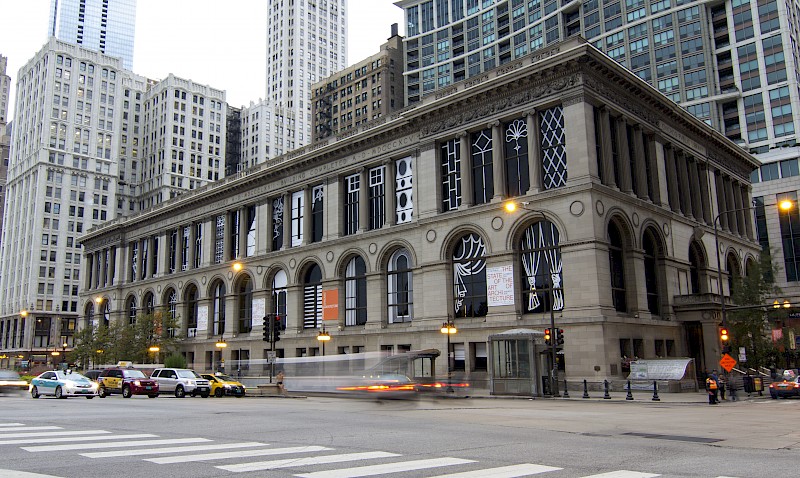 Artistic Directors Johnston Marklee have invited over 140 studios from around the world to present installations, drawings, and immersive environments throughout the building's three floors. They will also transform the spaces of historic structure itself, turning long corridors into arcades, creating intimate salon-style galleries, and punctuating the exhibition with a series of unique lounges where you're invited to relax and take in the show.
Make New History will gather together a wide range of works by architects and artists that offer new perspectives on the significance of historical ideas, images, buildings, and plans. One major element will be a set of monumental skyscraper models in the Cultural Center's Yates Hall that reimagine the historic competition to design the Chicago Tribune Tower.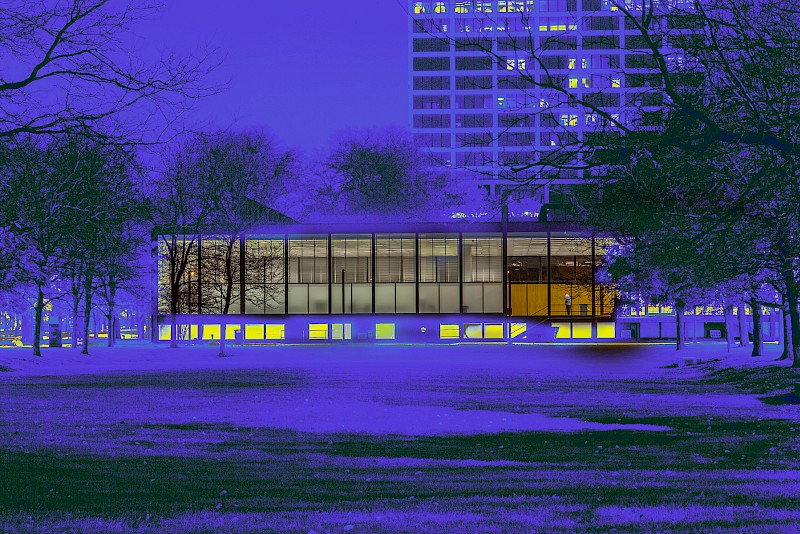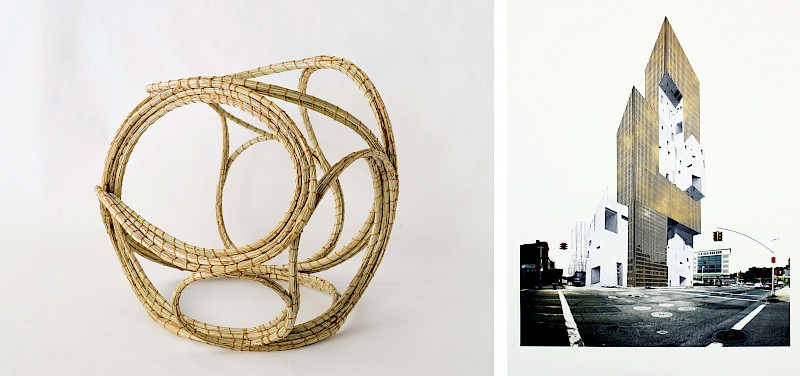 Another is a collection of scale model dioramas which reconsider the interiors of some of architecture history's most iconic buildings. The Cultural Center's GAR Hall will be filled with an array of displays where visitors will be able to explore these new designs up close.
Make New History also includes a special focus on experimental architectural photographers that have redefined the relationship between space and image. Visitors to Millennium Park will be able to view a series of psychedelic, hand-colored photographs by artist James Welling at a larger-than-life scale, installed on the facade of the Chicago Cultural Center. These and other cutting-edge works are curated by Jesús Vassallo as part of a show-within-the-show entitled A Love of the World.
Learn more about the Artistic Directors' vision for Make New History.
Special Projects
The Biennial is also presenting a series of installations and live performances that defy the boundaries of any one genre or discipline.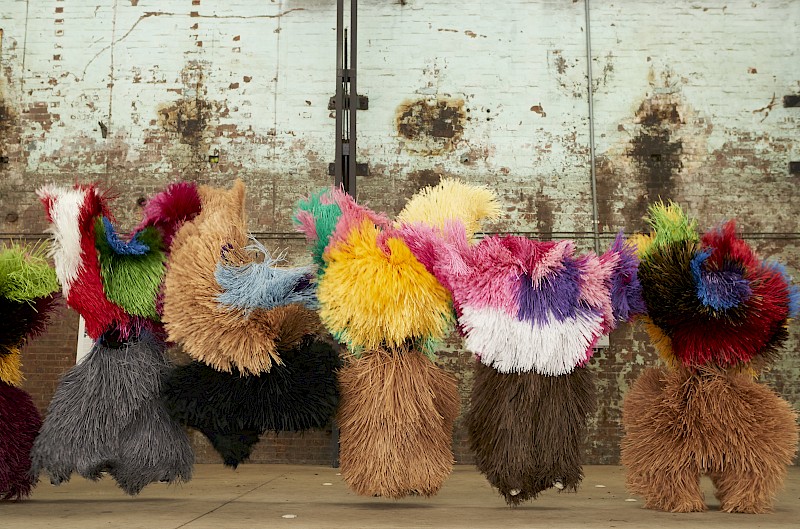 Groundbreaking artist Nick Cave and hometown starchitect Jeanne Gang are teaming up for a festive performance called "Here Hear," which will feature Cave's famous "soundsuits" and objects designed by Studio Gang. Performances will be presented in partnership with Navy Pier at Polk Bros Performance Lawn. Stay tuned for a full schedule with dates and times.
The Biennial is also activating the leafy interiors of the Garfield Park Conservatory, one of Chicago's hidden architectural gems, with two other special projects.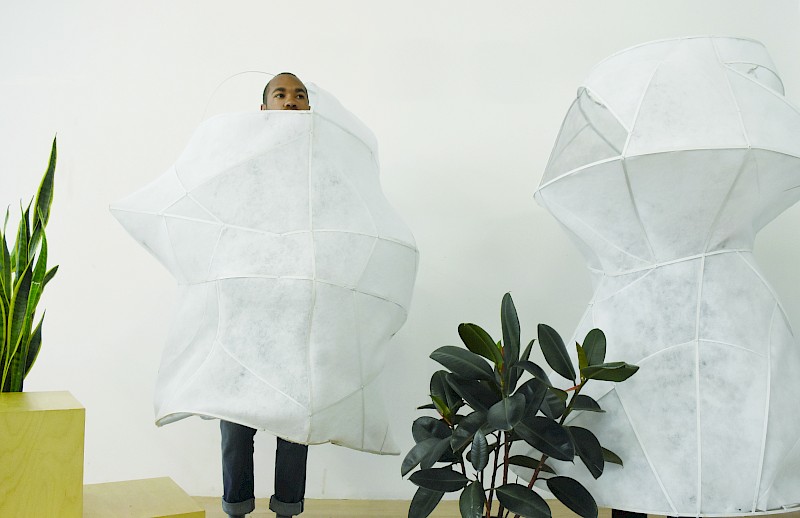 New York architects SO–IL and conceptual artist Ana Prvački have created an interactive performance entitled L'air pour l'air. Part installation and part musical performance, it features an ensemble of musicians who will debut a new piece by composer Veronika Krausas while ensconced in a series of wearable mesh enclosures that filter the air.
You'll be able to get a closer look at the objects and learn more during regular education sessions that explore the continuities between people, objects, and nature through a medium as ubiquitous as the air we breathe.
A schedule of public events is coming soon.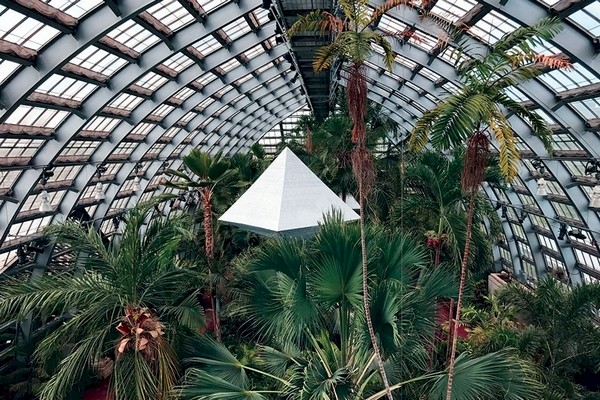 While you're at the Conservatory, don't miss another Biennial project designed specifically for the tropical microclimate of the Palm House. Francois Perrin's Air Houses: Design for a New Climate suspends a lightweight structure within the canopy of trees, meditating on new strategies for living in harmony with nature.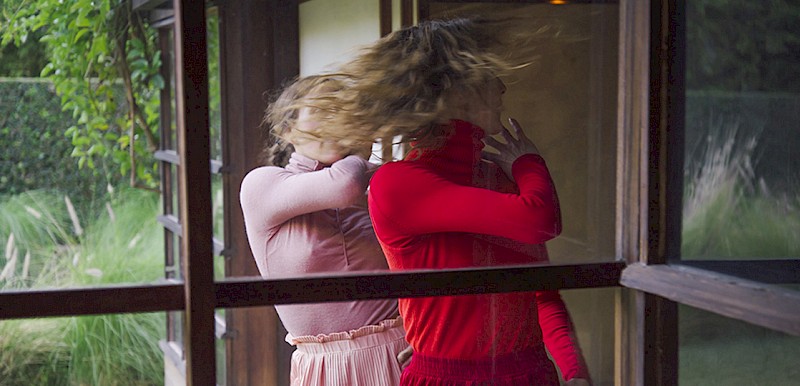 Another exciting project will draw visitors about an hour outside the city to the iconic Farnsworth House, a glass-and-steel masterpiece designed by Mies van der Rohe in Plano, Illinois. There the multidisciplinary performance group Gerard & Kelly will be presenting a site-specific dance piece called Modern Living, the latest in a series that previously visited Philip Johnson's Glass House in Connecticut and the Schindler House in Los Angeles.
Modern Living explores the philanthropist Edith Farnsworth's strained relationship with the solitary and transparent spaces of the modernist home she commissioned. A choreographic score spreads constellations of dancers throughout the house and grounds, reflecting on the condition of solitude and proposing new modes of intimacy—not only between the dancers but also among performers and spectators.
Public performances will take place on Saturday, September 16, 2017 and Sunday, September 17, 2016. Stay tuned for more information on how to attend.
Community Anchor Sites
These projects are only the beginning of what will be on view across the city. The Chicago Architecture Biennial is also making a major push beyond the Loop in 2017 with a group of related exhibitions at six institutions rooted in Chicago's neighborhoods. These exhibitions at the the Community Anchor Sites are delving deep into the built fabric of the South Side, Pilsen, Beverly and Humboldt Park, exploring local traditions like muralism and community reuse that have arisen organically over decades.
Take a look at our venue map to explore all of the sites at once and find out the best way to visit. Read a bit about each exhibition below.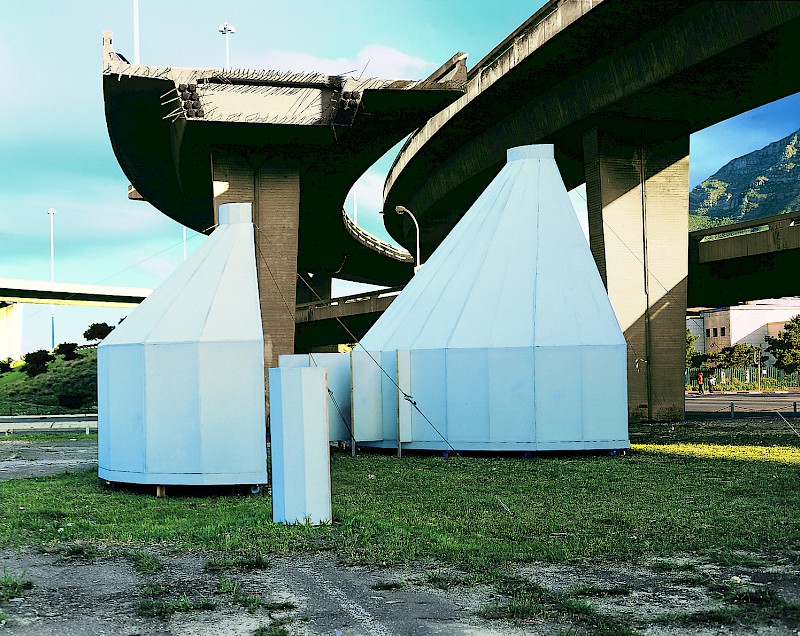 Ângela Ferreira: Zip Zap and Zumbi
DePaul Art Museum
September 7– December 10, 2017
For sculptor Ângela Ferreira, buildings and structures are starting points for works of art that engage with complicated colonial histories in Portugal and sub-Saharan Africa. Her works at the DePaul Art Museum triangulate a dialogue across time and geographies between the modernist forms of Mies van der Rohe, Mozambican architect Pancho Guedes, and vernacular architecture found in Portugal, Brazil and throughout countries in Africa. Learn more here.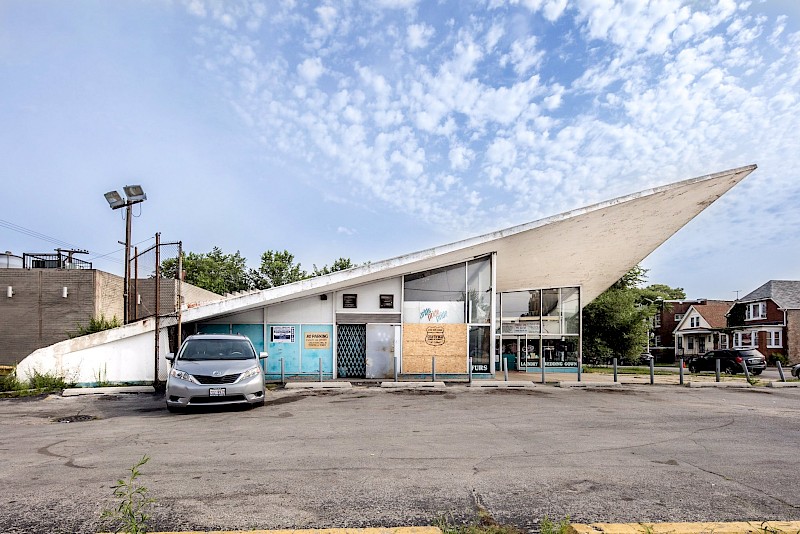 Chicago: A Southern Exposure
DuSable Museum of African American History
Chicago: A Southern Exposure is an exhibition of architectural photography designed to bring attention to the places and spaces–both great and small–of a region of the city of Chicago ignored by the architectural press, tourists and many Chicagoans themselves. Featuring the work of architecture photographer, critic and South Side resident Lee Bey, Chicago: A Southern Exposure is the first major show devoted to South Side architecture.
Edward Hines National Forest
Hyde Park Art Center
November 12 – February 11, 2018
Chicago-based artist Sara Black and Aotearoa New Zealand artist Raewyn Martyn will transform a gallery space into an immersive built landscape constructed rooted in the historical timber industry that grew out of the south branch of the Chicago River. "Edward Hines National Forest" traces the material processing of trees - from plant to lumber and cellulose - to produce hybrid forms that expose the complex relationship between humans, the human-made and the larger ecosystem. Learn more here.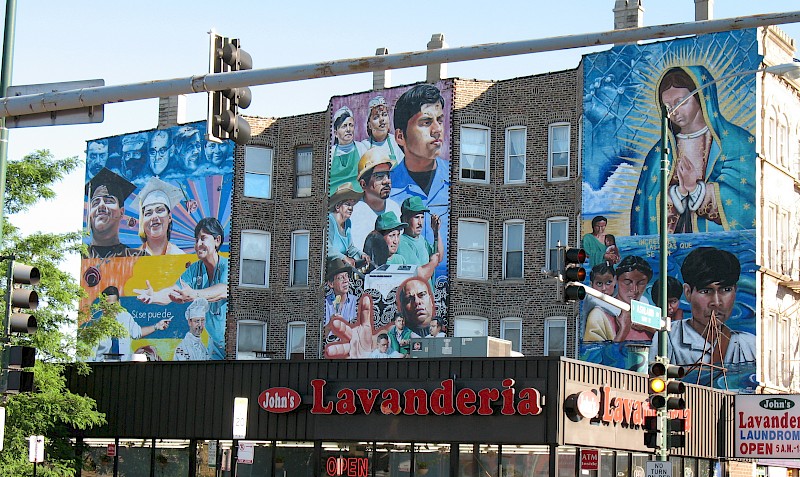 Placemaking and Landmarks: the Creation of Mexican Spaces in la Diez y Ocho
National Museum of Mexican Art
Drawing from the museum's permanent collection as well as local Chicago photographic archives, the exhibition will highlight the advent and development of structures and spaces within the Mexican communities in the metropolitan Chicago area.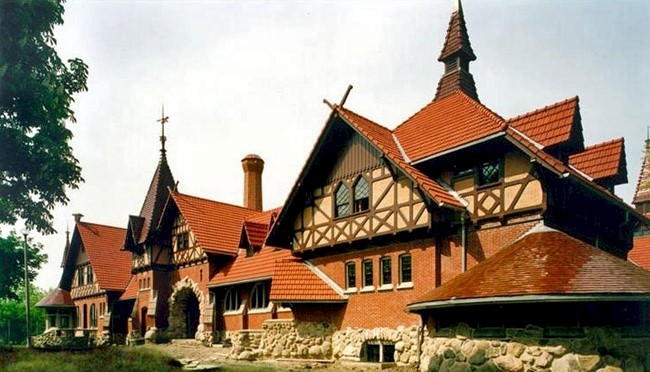 The Humboldt Park Stables: A Transition into the Future
National Museum of Puerto Rican Arts & Culture
September 2017 – Ongoing
Along with Juan Gabriel Moreno Architects, NMPRAC will design and activate an understanding of the architectural and cultural heritage of the national landmark site of the museum. This layered and multivalent approach reveals the succession of cultures and influences working reciprocally to define local places and structures in the historic Humboldt Park neighborhood.
Public Program Highlights
In addition to ongoing exhibitions, the Biennial invites you to attend a full calendar of performances, talks and celebrations to look this fall and winter at the Chicago Cultural Center and sites around the city.
Below are just a few types of events to look forward to. Visit the public programs page on our website to explore the full range.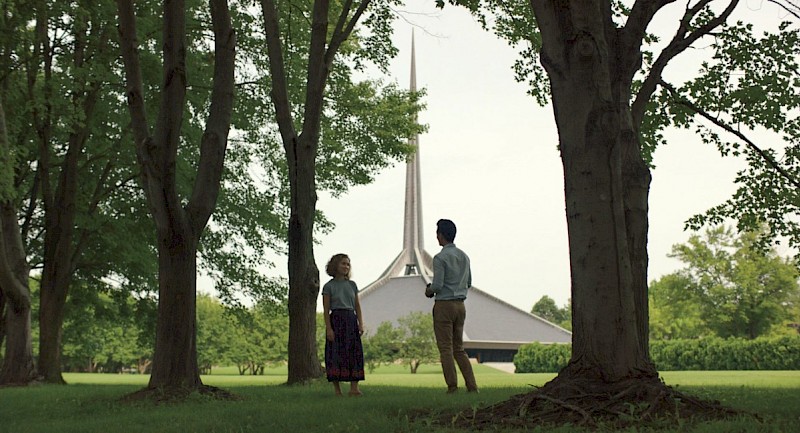 CAB Pillars
The Biennial will host a collection of high-profile lectures and discussions featuring participants from the 2017 Biennial at the Cultural Center's Preston Bradley Hall and other prominent Chicago locations.
Forums at Randolph Square
Set in a uniquely designed indoor amphitheater by Mexico City-based participant Frida Escobedo, these talks will engage the public in a series of wide-ranging, architecture-themed conversations.
Films with Chicago International Film Festival
This selection of international narrative features, documentaries and short films showcases new works about celebrated architects (including Mies van der Rohe and SANAA) as well as chronicles of ordinary people and characters interacting with extraordinary places.
CAB Sessions
These panels and long-format discussions with architectural professionals, field practitioners, and academics will touch on a series of urgent topics in architecture and urbanism. Sessions include What is Organic Architecture Today?, Building With Digital Fragments, and Making / Writing / Teaching Contested Histories.
Partner Exhibitions and Events
Beyond the Biennial's own events, programs, and projects, we're excited to partner with over one hundred local, national, and international institutions to fill the calendar with even more architecture, arts and design. Below are few partner exhibitions to explore while the Biennial is on. Check the venue map to explore more partner events.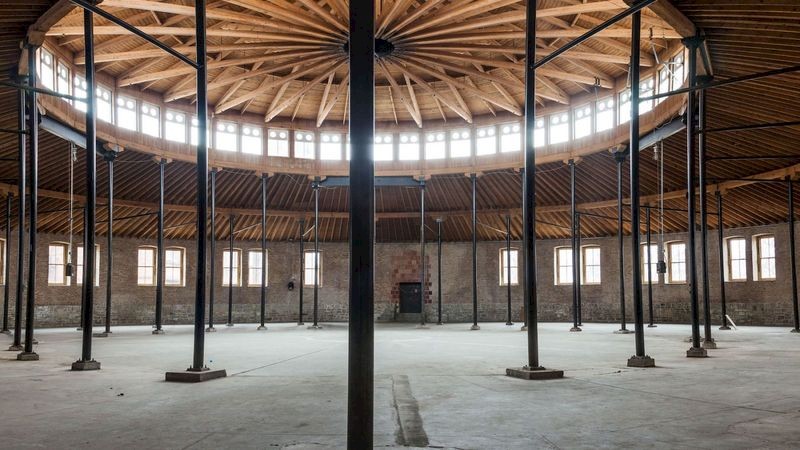 Singing Stones
Presented by Palais de Tokyo and EXPO Chicago
The Roundhouse at the Dusable Museum of African American History
September 13, 2017 - October 29, 2017
Singing Stones, curated by the Palais de Tokyo's Katell Jaffrès, brings together 11 emerging artists from both the French and Chicago art scenes, as part of the first Hors les Murs exhibition in the United States, in partnership with the Institut français.
Presented within The Roundhouse—a 17,000 sq. ft space built in 1881 and designed by Burnham & Root—at the DuSable Museum of African American History, the exhibition will present an intimate dialogue between original productions and pre-existing works to open during the sixth edition of EXPO CHICAGO (September 13–17). Learn more here.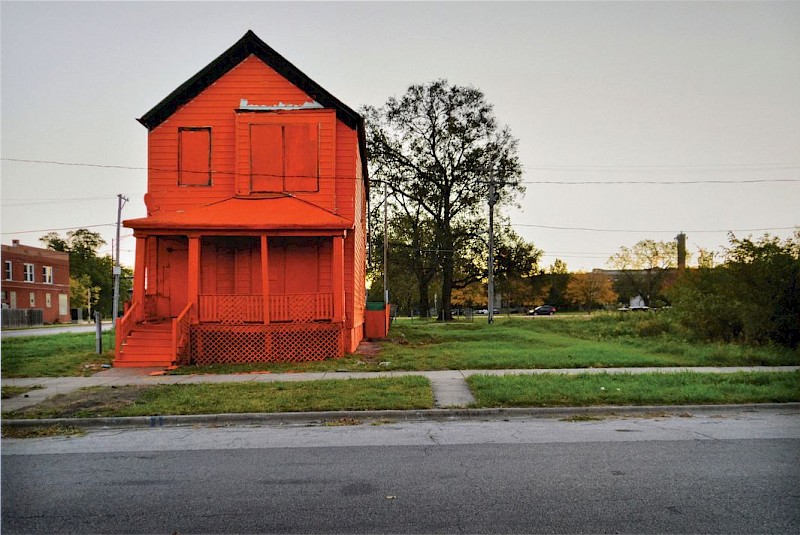 Chicago Works: Amanda Williams
July 18, 2017 - December 31, 2017
Michael Rakowitz: Backstroke of the West
September 16, 2017 - March 4, 2018
Museum of Contemporary Art Chicago
Amanda Williams' exhibition, which builds on her 2015 Chicago Architecture Biennial project Color(ed) Theory, transforms the gallery space with site-specific installations that consider the lifecycles of building materials while raising urgent questions on urban blight and decay in Chicago's South Side. Learn more.
Michael Rakowitz's first US museum survey features early works, a new commission, and major installations, such as Enemy Kitchen (2003–ongoing), a pop-up food truck that serves Iraqi dishes made from recipes that Rakowitz and his mother collected through workshops and extensive community liaisons. Learn more.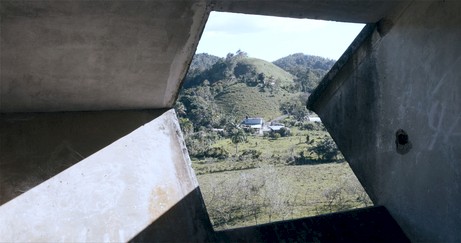 in the forest: DAVID HARTT
Graham Foundation
September 14, 2017 - January 6, 2018
The Graham Foundation presents in the forest, a newly commissioned multi-part installation by artist David Hartt. The exhibition revisits Moshe Safdie's unfinished 1968 Puerto Rico Habitat project, transforming the Foundation's turn-of-the-century Madlener House galleries with a film, a suite of photographs, and a series of sculptures. Learn more here.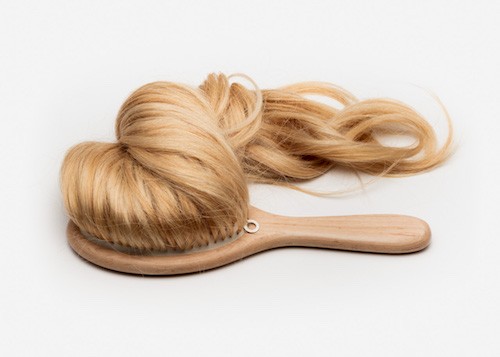 Past Forward: Architecture and Design at the Art Institute
Art Institute of Chicago
Opens September 12, 2017
This fall the Art Institute opens a new installation devoted to the museum's seminal collection of architectural drawings and furniture, graphic, and industrial designs of the 20th and 21st centuries.
Sections range from the history of ornament and Pop to contemporary moments in urbanism and speculative design. Delving into the development of the modern city, the effect of technological transformations, the impact of evolving health concerns, and the influence of global dynamics, the history of modern and contemporary architecture and design is presented as a living social and cultural process.
Learn more here.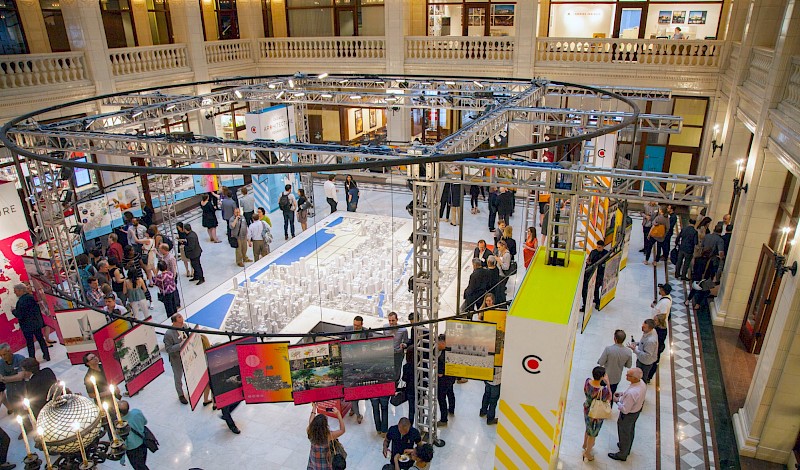 Between States
Chicago Architecture Foundation
September 19, 2017 - January 7, 2018
Between States is an ambitious showcase of 50 community-based design solutions to transform underappreciated and underperforming spaces in Chicago into rejuvenated civic anchors.
This exhibition is the latest in CAF's multi-year 50 Designers/50 Wards investigation, which explores how designers and residents might equally participate in identifying growth opportunities within all of Chicago's neighborhoods. Learn more here.


Explore the full list of 2017 program partners by clicking in the Biennial's Are.na channel below. Find more content and resources on the Biennial's Are.na profile.