Chicago is the undisputed hometown of modern architecture. It's the city where the world's first skyscrapers rose, where Frank Lloyd Wright came to prominence, and where Mies van der Rohe built most of his iconic postwar buildings.
Today visitors flock to Chicago's many architectural landmarks. They ride Chicago Architecture Foundation's educational boat tours, which drift past the row of iconic buildings lined up along the river: the Chicago Tribune Tower, the Wrigley Building, the Merchandise Mart, Marina City—the list goes on and on.
But for every modern masterpiece, Chicago has another piece of great architecture that remains relatively obscure. The city offers an abundance of interesting buildings and spaces that reward anyone curious enough to look closely. We asked a group of Chicago Architecture Biennial participants to pick their favorites and compiled their answers' into this guide to Chicago's lesser-known architectural gems.
If you're coming to town for the Chicago Architecture Biennial, these spaces are guaranteed to draw you off the beaten path.
1. Palmisano Park (Stearn's Quarry) by D.I.R.T. Studio and Site Design Group
Recommended by UrbanLab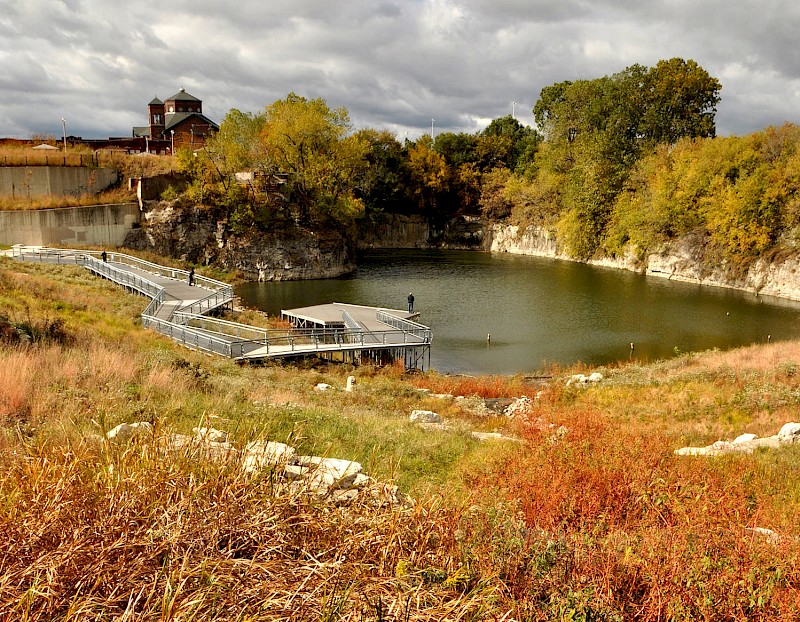 UrbanLab is a Chicago-based architecture and urban design studio focused on creating environmentally resilient buildings and public spaces that passively regenerate natural resources. Principals Martin Felsen and Sarah Dunn are deeply interested in how design can transform the way cities function as hybrid natural and artificial landscapes.
Felsen and Dunn are especially fond of Palmisano Park, a parcel of land in Chicago's Bridgeport neighborhood that was originally home to a 380-foot deep limestone quarry and then became a landfill in the 1970s. Landscape architects D.I.R.T. Studio and Site Design Group eventually turned the area into a park that slopes gently up from the quarry and into a bermed hill. Visitors can follow paths around the park as the landscape changes from grass to wet prairie to a marshy pond.
"What we like about the project is that D.I.R.T. Studio proposed to take a post-industrial wasteland—a landfill—and add a public space on top of it in the form of a park," said Dunn.
"The two programs co-exist together in section. The project has special significance for us because in our own practice we are interested in hybridizing infrastructure, architecture, and landscape."
2. The Winter Garden at Harold Washington Library
Recommended by Design With Company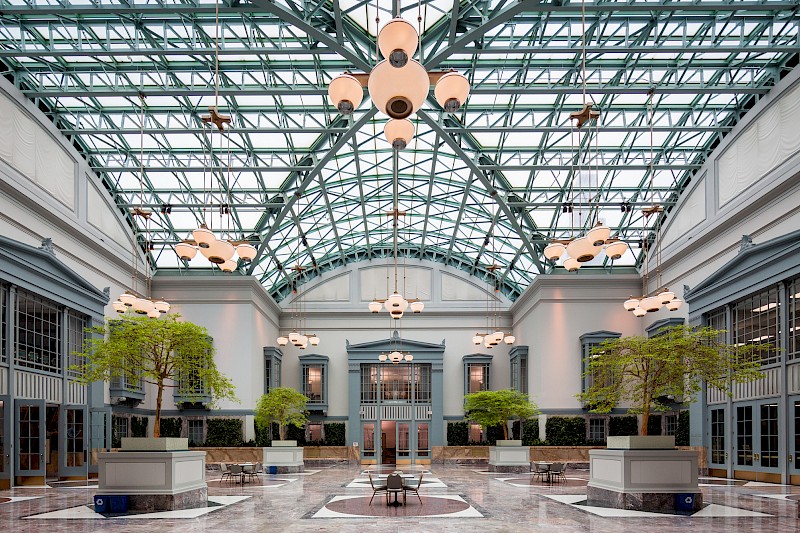 Design With Company is the two-person studio of Stewart Hicks and Allison Newmeyer, which deals primarily with what they call "fabulous architecture" – drawings, objects and spaces that interpret reality through narrative or tell an alternative story about the way the world could work in the future.
Hicks and Newmeyer like to think of their creations as literary characters, so it's no surprise they have a soft spot for one of the city's most audacious pieces of postmodern architecture: the Harold Washington Library.
The library is something of an acquired taste. The architects know that the building's massive scale, liberal ornamentation, and fortress-like facades are enough to turn off plenty of Chicagoans.
"The Harold Washington Library is a controversial building in Chicago. The first floor presents a heavy base toward the public street," said Hicks and Newmeyer.
But tucked away inside the heavyset public building is a top-floor atrium that feels light as air, thanks to an enormous skylight.
"Although the building lacks a generous public face on the street level, it gives it back on the top floor with the roof garden, which turns the city inside out by offering an interior streetscape," said the architects. "The space is great for reading or hanging out year round."
3. University of Illinois at Chicago, Netsch Campus
Recommended by Design with Company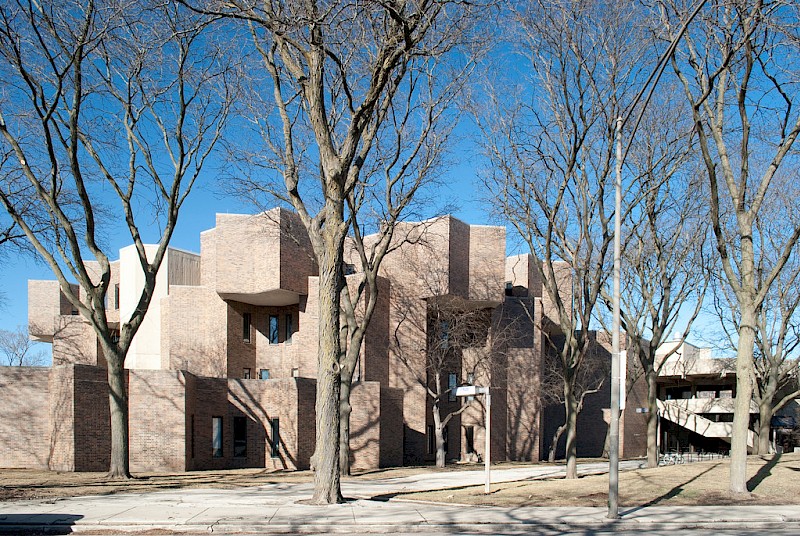 As faculty members at the University of Illinois at Chicago, Hicks and Newmeyer also representing their architecturally significant home campus, whose core was master planned by the modernist architect Walter Netsch.
Netsch was a partner at Skidmore, Owings and Merrill who was known for modern academic architecture, including the US Air Force Academy in Colorado Springs and the University of Chicago's decidedly brutal Regenstein Library. Although much of his original "Circle Campus" has been demolished to make way for contemporary additions, some of Netsch's most distinctive buildings are still in use today.
"The campus of the University of Illinois at Chicago is a large scale urban experiment," said Hicks and Newmeyer. "Walter Netsch designed the campus in the 1960s as a demonstration of his 'field theory' of overlapping squares. Despite Netsch's all-encompassing grand vision, the campus has been changing, growing, and transforming ever since leaving strange and delightful residues along the way."
4. Anti-Cruelty Society Animal Shelter by Tigerman McCurry
Recommended by Design with Company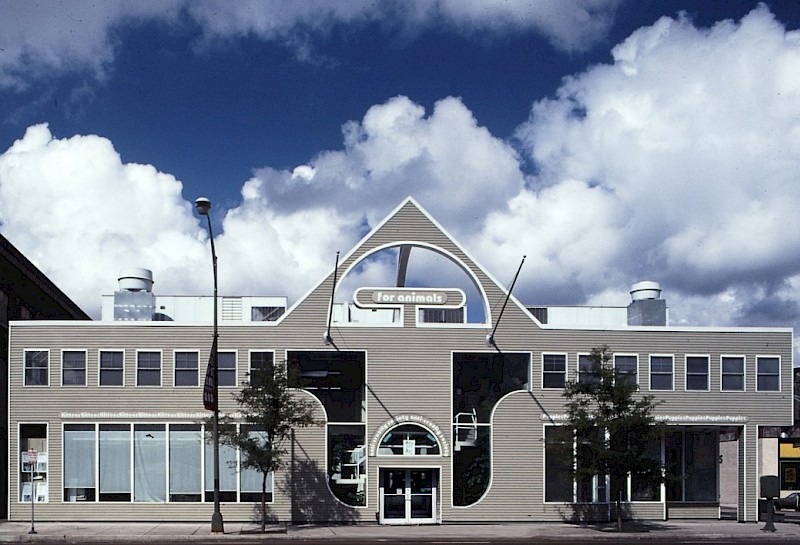 Design With Co. is also fond of one of the most iconic postmodern buildings designed by longtime Chicago architects Stanley Tigerman and Margaret McCurry – whose fanciful character Newmeyer and Hicks channel in their own contemporary work.
The architects are not only fans of the Anti-Cruelty Society shelter's design. They are also patrons.
"I remember learning about this building as an undergrad and when we first moved to Chicago, I was delighted to find that it was only a block away from my employer's office," said Hicks. "On a visit to the building, I couldn't resist taking home a kitten that we named Lola. Now it is 15 years later and we have a second that we adopted from the same place."
If architecture for Hicks and Newmeyer is about bringing design to life, they truly practice what they preach.
"The building's facade features signature arcing windows in a vague silhouette of an animal's face. We are often asked about the relationship between our work and postmodernism, but we really do have a deep connection to at least one of its signature landmarks."
5. Overton Hygienic Building
Recommended by Marshall Brown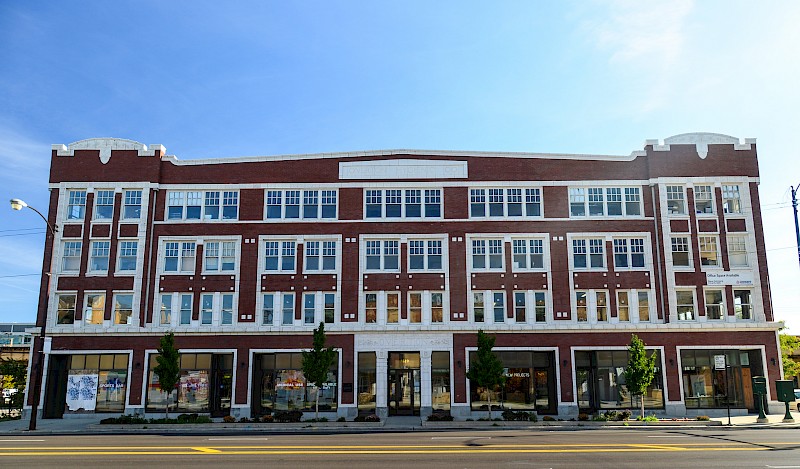 Marshall Brown is a Chicago architect and urban designer who envisions future possibilities for urban development across a wide range of media. Known for a series of architectural collages that meld old and new building types, he also represented the United States at the Venice Biennale in 2016 with a plan for housing and education in Detroit. Brown's drawings, installations and urban design schemes draw on the persistent power of architectural images, applying bold design strokes while paying close attention to the cultural and social history of urban places.
The most significant Chicago building to him is a landmarked office building in the heart of the Bronzeville / Black Metropolis historic district, the part of the city where African American professional and cultural life first boomed before the second World War. It's also close by the Illinois Institute of Technology, where Brown is part of the faculty.
"The space that has inspired my practice more than any other is the Overton Hygienic Building, where I have kept my studio since 2011," said Brown. "It's a Chicago Landmark, built in 1922, and one of the few buildings near IIT to survive the urban renewal period."
The building was originally commissioned by Anthony Overton, one of the nation's first major African American businessmen, to house a number of businesses including a cosmetics brand, an insurance company, and a bank that all catered to black Americans. The building has also spent time as a hotel and a flophouse before reemerging as an incubator for local businesses.
"The State Street façade is classic brick and terra cotta, but the interior is a raw, and very modern concrete structure with mushroom capped columns," said Brown. "It's an amazingly flexible and durable work of architecture that has enabled my practice to thrive."
6. Self-Park Garage by Stanley Tigerman
Recommended by Ania Jaworska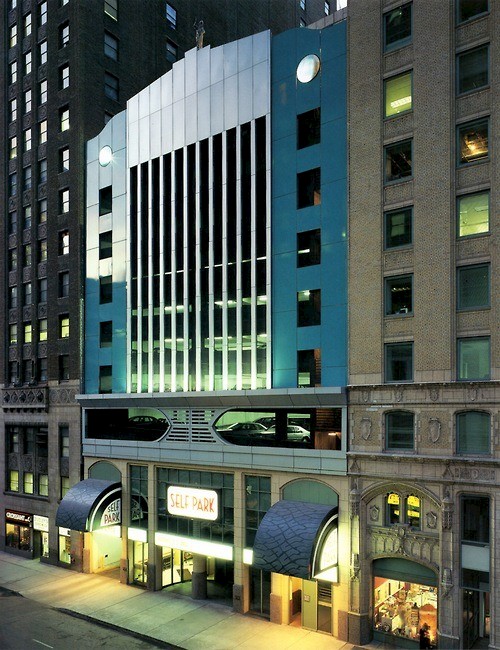 Ania Jaworska is a Chicago-based artist whose work playfully sends up conventions of architectural representation and crosses easily from two to three dimensions. From classical orders to postmodern ornamentation, Jaworska's sculptures and drawings carve out a space in contemporary life for the knowing reinterpretation of historical motifs.
One of Jaworska's favorite Chicago buildings is the Self-Park Garage at 60 E. Lake Street, another not-quite-flat facade by Stanley Tigerman, the city's most famous postmodern stylist.
"The garage was built in 1986, and the front elevation is composed of elements that reference the front end of a luxury Rolls-Royce," said Jaworska. "The upper part of the façade is a turquoise metal cladding incorporating the windows that resemble a car's grille and headlights. The middle looks like a bumper; and the base incorporates two black vinyl canopies that are reminiscent of tire treads. Signage is incorporated in the place of a license plate and wheel rims. The building is topped with a silver colored statue acting as an extravagant hood ornament."
Like Jaworska's own work, the building works both at a glance and on a deeper level. It cleverly references contemporary pop culture while gesturing back to the strict decorative hierarchies that governed ancient Greek temples and Renaissance palaces.
"I enjoy it for the in-between qualities," said Jaworska. "The facade is humorous, narrative, and poppy, but also sophisticated and classical. It is a perfect statement of postmodern architecture."
7. All Saints Episcopal Church
Recommended by Paul Preissner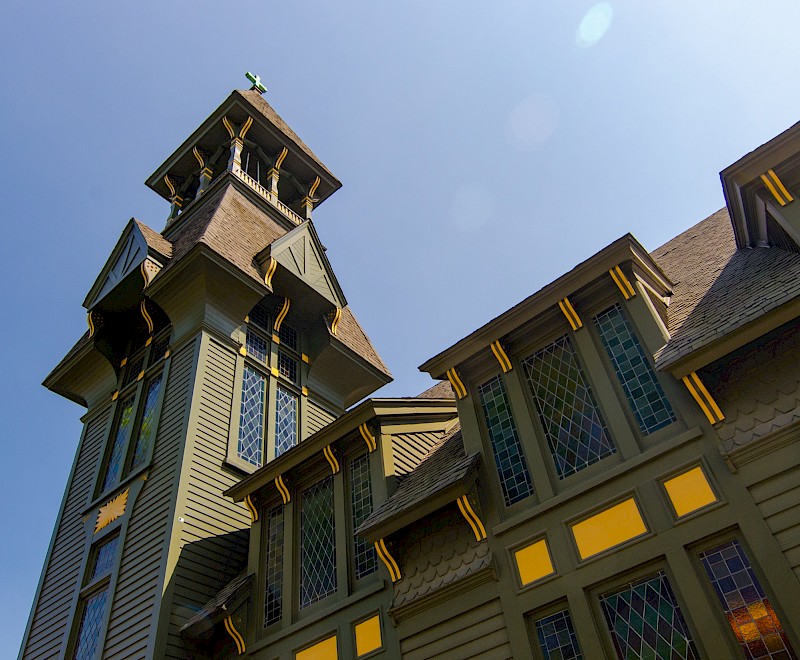 Paul Preissner is a Chicago-area architect with extensive experience renovating residential and commercial buildings around the city's neighborhoods. Spending the time to look with care at Chicago's low-rise structures has given him an appreciation for the
"I don't fall so much for the icons of the city," Preissner said. "A lot of what I typically look to and take interest in is the most boring, invisible, and anonymous history of the place."
Preissner's favorite local building is the wood-framed All Saints Episcopal Church in Ravenswood, completed in 1883. It is one of very few such buildings built after the Great Chicago Fire of 1871, when the city changed its building code. It was restored and repainted in 2016.
"All Saints is a fairly large, wood frame-and-shingle building, and as such it seems really quite small and personal in ways that most churches never are," said Preissner. "The side elevation has a really wonderful window and reducing roof and siding composition that I love to stare at. It's very delicate and plain at the same time."
8. Jackson Boulevard and S. Dearborn Street
Recommended by Norman Kelley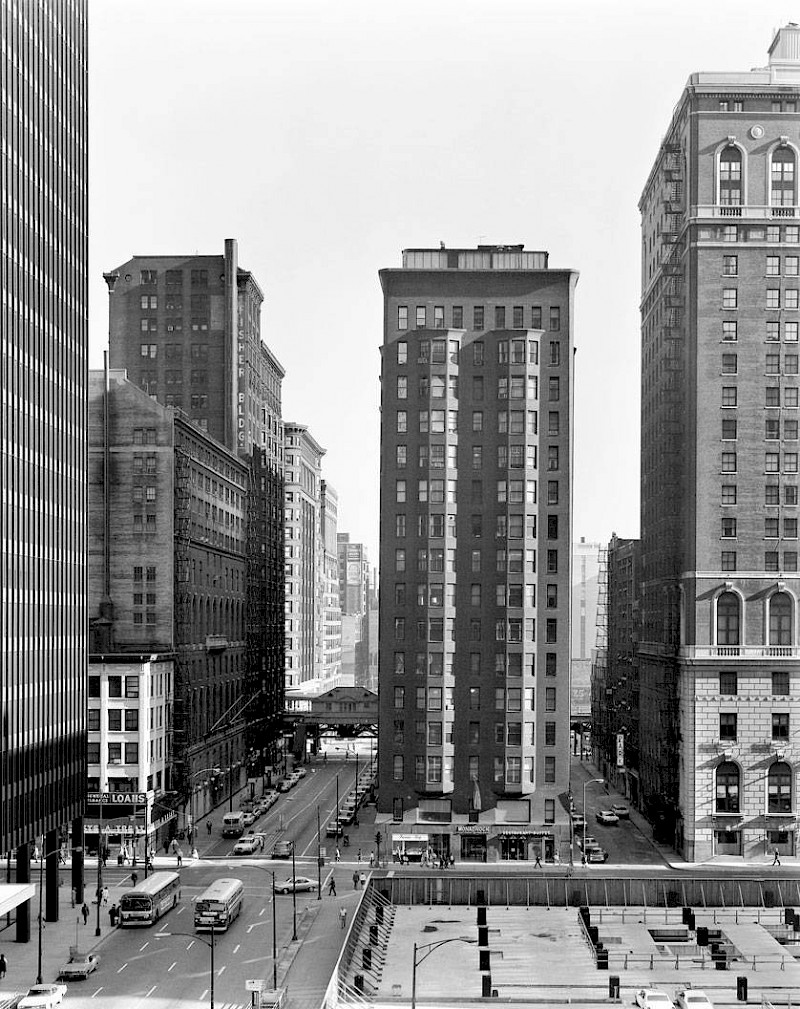 Norman Kelley specializes in drawings, objects, and spaces that are not always what they seem. From trompe l'oeil wall drawings to improbably assembled furniture, each Norman Kelley project is a puzzle of different dimensions and styles. Even the name "Norman Kelley" dissembles: it doesn't refer to one individual, but the professional partnership of multidisciplinary designers Carrie Norman and Thomas Kelley.
True to form, Norman Kelley looked past single buildings and selected two vantage points where Chicago's architectural history reveals itself as a study in not-quite contrasts.
The first is located at the intersection of West Jackson Boulevard and South Dearborn Street, where you can see the northeast corner of Daniel Burnham and John Root's Monadnock Building and the southeast corner of Mies van der Rohe's Federal Building. The towers, built 83 years apart, both represent iconic milestones in modern architecture. Together they tell a story of innovation and evolution in how pioneering builders imagined the city.
9. S. State Street and E. 33rd Street
Recommended by Norman Kelley

The second vantage point is located at the intersection of South State Street and East 33rd Street, where you can see the southwest corner of Rem Koolhaas' McCormick Tribune Campus Center and the southeast corner of Mies van der Rohe's Office of Undergraduate Admission.
"At both intersections, provided you don't get hit by a car, you can witness historical dialogues being made across one hundred years of construction on what it means to turn a corner," said Norman and Kelley. "In one place, it's a gentle nod; at the other, a middle finger."
UrbanLab, Design With Company, Marshall Brown, Ania Jaworska, Paul Preissner, and Norman Kelley will all be featured in Make New History, the Chicago Architecture Biennial's main exhibition opening at the Chicago Cultural Center on September 16, 2017. The Biennial will also feature exhibitions at six community anchor sites in neighborhoods across Chicago and programs hosted by over 100 partners. Explore the full range of the event and plan your architectural exploration of Chicago at chicagoarchitecturebiennial.org.


If you want to explore even more distinctive architecture, don't miss Open House Chicago 2017, a free annual festival that will open up over 200 buildings to the public in October. Open House Chicago is presented by the Chicago Architecture Foundation, the signature education partner of the Chicago Architecture Biennial.


Explore more of Chicago's overlooked architecture and add your own suggestions using the Are.na channel below: