The interdisciplinary in architecture has our attention now more than ever. Fashion, dance, music, visual art, and design feed off of one another—often in the same installations, films, performances, and environments.
Thanks to the stream of digital content that spreads culture around the globe, fashion and architecture overlap in particularly fluid formats. Dematerialized and recontextualized, the trends that shape buildings and clothing interact in fascinating new ways on our Instagram feeds as well as out in the physical world.
Arts institutions have explored these new ties and tensions to great effect. The Met Costume Institute's recent retrospective of Rei Kawakubo, for example, took pains to emphasize the architectonic structure of her designs. It situated the Comme des Garçons founder's bulbous, raffled, and reconstructed garments within a geometric landscape of gallery spaces that embodied the quality of "in-betweenness" the legendary designer chased throughout her career.
Another New York exhibition, "Items: is Fashion Modern?" just opened at the Museum of Modern Art. Curator of Architecture and Design Paola Antonelli was inspired by the museum's 1944 exhibition, "Are Clothes Modern?" organized by Bernard Rudofsky, whose kitchen-sink approach to material culture anticipated our own globally interconnected cultural moment. Channeling Rudofsky, Antonelli's show foregrounds the objects themselves, their constructions, and their relationships with functionality, aesthetics, and technology in an expanded cultural field.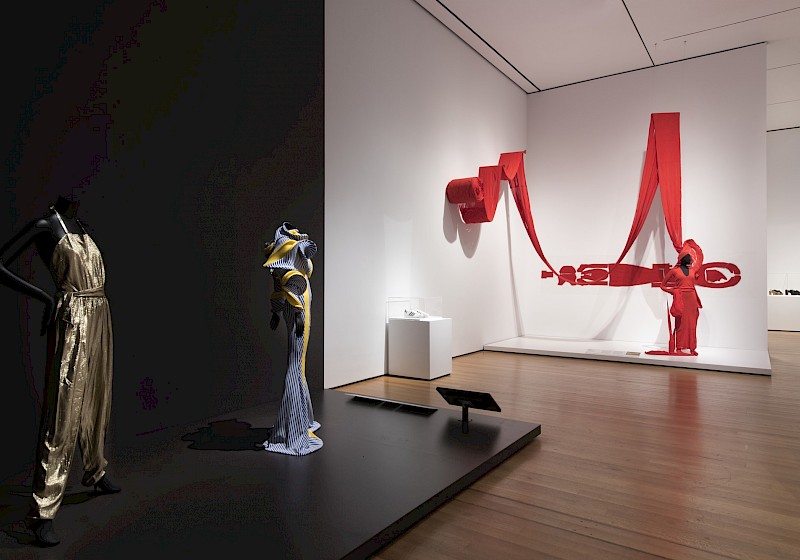 But the fashion-architecture relationship is being reshaped in the style marketplace as much as it is within the gallery. Take Virgil Abloh, the Kanye West collaborator turned fashion designer whose label Off-White recently shot from cult favorite to global mega-brand. In a recent talk at Columbia's Graduate School of Architecture, Planning, and Preservation entitled, "Young Architects Can Change the World by Not Building Buildings," Abloh, who also happened to earn a degree in architecture from IIT, urged students to set their sights on the world of cultural production.
Abloh is another modern-day Rudofsky, whose own creative output ranged from country gardens to a popular line of leather sandals. But influence takes faster and more unpredictable paths in the world that Abloh and his generation of cultural polymaths have made. Designers appropriate architectural traditions toward other ends while architects take cues from fashion's cultural preoccupations, and both sources and final products end up juxtaposed endlessly on the mobile web.
This is the environment where the beguiling German fashion and design studio BLESS has found its voice. Nominally a fashion label, BLESS refuses to separate garments from the wider continuum of artifacts, images, environments and platforms that frame our contemporary cultural life.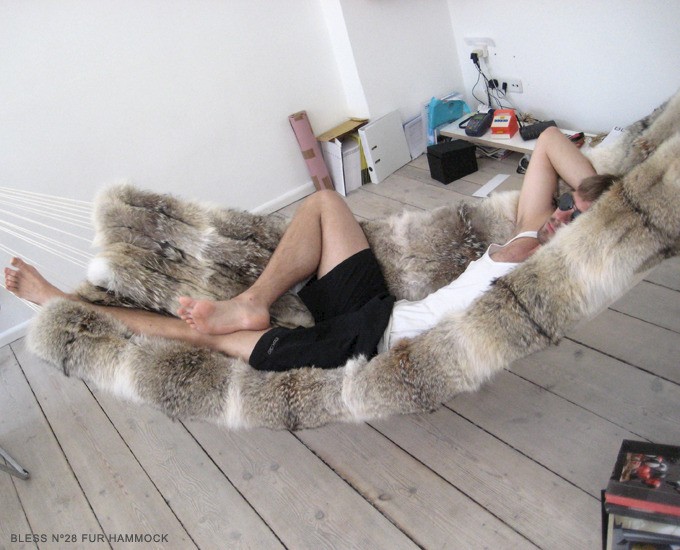 BLESS' meticulously numbered "collections" have often included tongue-in-cheek twists on luxury goods and more pedestrian items which abandon utility in favor of an uncanny tension. No. 26, "Cable Jewelry," bedazzled the charging cords for household electronics in a combination of lace, buttons, pearls, and beads. Other inventions have included hammocks lined in luxurious fur, bike helmets sewn into throw pillows, and entire sets of desk furniture that hang like mobiles rather than resting on the floor.
When Artistic Directors Sharon Johnston and Mark Lee asked BLESS' Ines Kaag and Desiree Heiss to create an interactive installation for the Chicago Architecture Biennial, the designers aimed to manipulate every variable that factored into the site — making "the space, the furniture, and the visitors… of equal importance."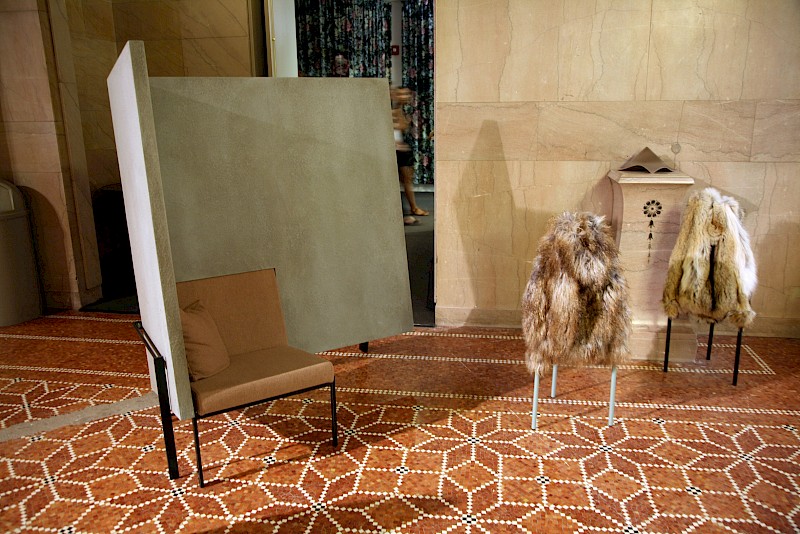 The installation itself, which takes the shape of a public lounge space on the fourth floor of the Chicago Cultural Center, is a collaboration and dialogue with the classic Finnish furniture brand Artek. "BLESS N°60 Lobby Conquerors" is also a clever spinoff of the studio's 1998 installation "Living-Room Conquerors," in which BLESS presented a collection of what the designers dubbed "chairware." This was a series of garments for furniture, which owners could use to dress up and customize their homes in styles that epitomized BLESS' interest in playfully reinterpreting practicality.
In the Chicago Cultural Center, a new generation of customizations is directly inspired by the building itself, drawing colors and material inspirations from the ornate fittings and burnt-orange floor tiles of the turn-of-the-century interior designed by Shepley, Rutan & Coolidge.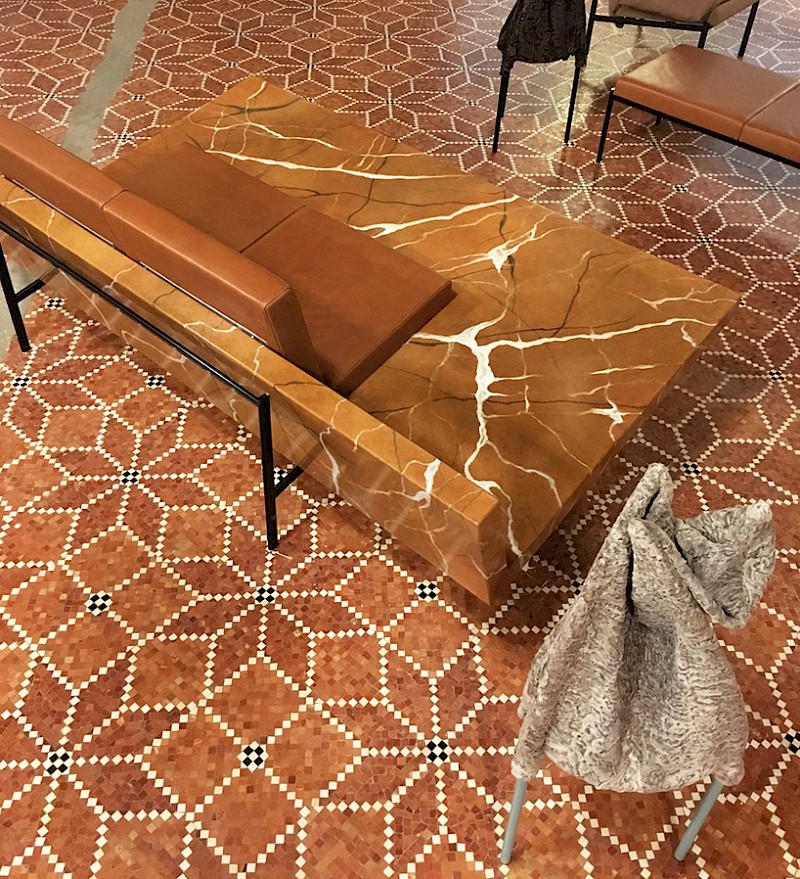 BLESS created one small unit of "architurniture" out of Artek's well-known Kiki lounge chair. Another dressed the brand's Lukki stools in hairy "clothing" that completely covers the seat, forcing visitors to choose whether to sit down or treat the whole construction like a miniature sculpture..
Many of the chairs have sprouted concrete walls, marble platforms and fur covers. Some of these add-ons create their own private enclosures and form something closer to a room than a piece of furniture. Some even morph into small staircases. Others expand and interact to encourage social interaction. As the studio describes, the lobby becomes a "location of encounter between human and furniture."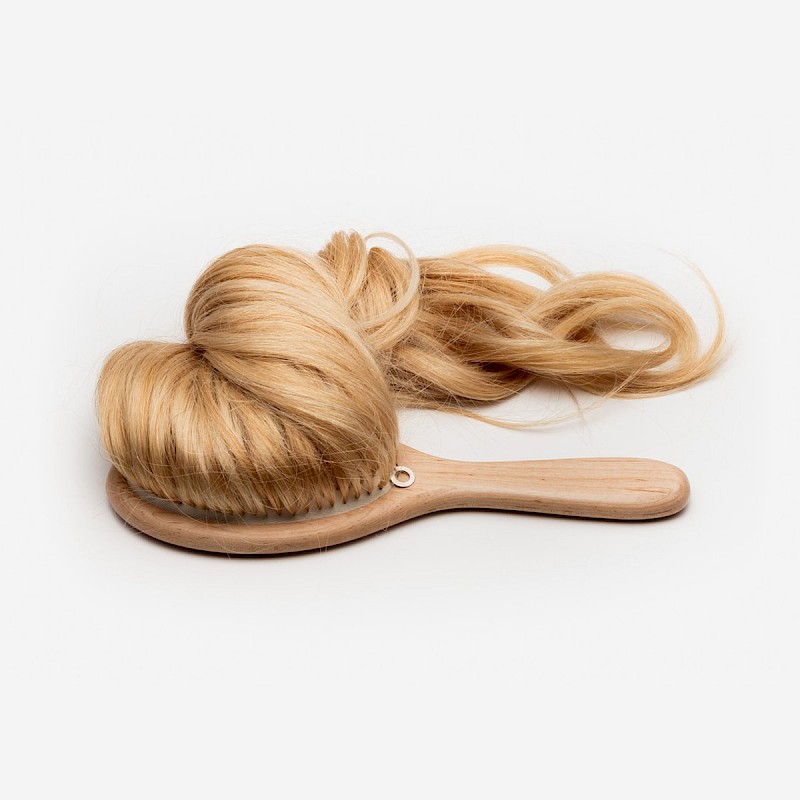 This is not the first time BLESS has created work that straddles fashion, industrial design, and architecture. Previous collaborators have included fashion houses Longchamp and Linda Farrow, and the studio has designed interactive environments for the Istanbul Design Biennial as well as its own inventive presentations. Part of BLESS' mandate is to deconstruct ideas that would ordinarily fit within one of these fields and put them back together in inventive ways that come to feel inevitable after the fact.
Heiss and Kaag call it "challenging the formal confines of function," and their lobby installation at the Biennial is a case in point. The simple problem of designing the lobby breaks down into a fuzzier question: how to give each visitor a unique feeling of personal comfort in a public gathering space? Their solution by misdirection hinges on the contradiction of inhabiting a transitory space and inviting interaction in multiple ways, "some with the aim of connecting people and others, in contrast, [with the ability] to provide privacy and shelter."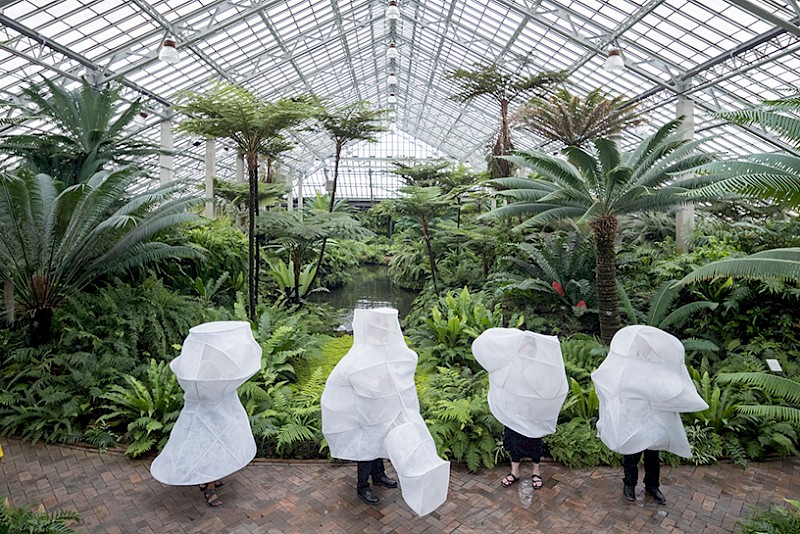 There was plenty of further evidence at this year's Biennial that the design world is catching up to BLESS' iconoclastic poetics uniting fashion and architecture. A site-specific performance created by architects SO-IL and artist Ana Prvački featured a performance by members of the Chicago Sinfonietta, who moved within Garfield Park Conservatory while ensconced in wearable, mesh structures that filtered the air around them. Nick Cave's iconic "soundsuits" were also on view in a new collaborative performance project entitled "Here Hear Chicago," appearing this time with a cast of performative objects created by Studio Gang.
One of BLESS' most indelible designs, the Hairbrush, is also on view across the street from the Biennial, as part of the Art Institute of Chicago's "Past Forward: Architecture and Design at the Art Institute." Originally collected for a 2012 exhibition entitled "Fashioning the Object," its inclusion in the museum's permanent collection of architecture and design artifacts highlights fashion's expanding connections to architectural design and the depth of BLESS' contemporary influence.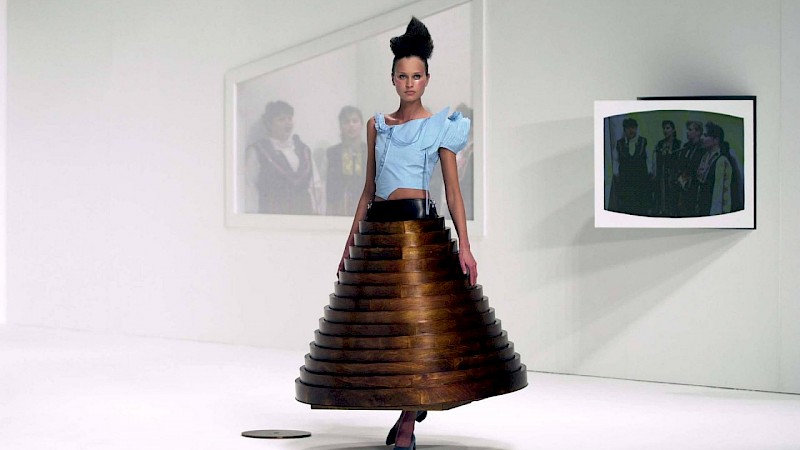 Each of these designs reaches back to the idea of sheltering the body, where clothing design and object design intersect as distinct approaches to a common problem. From Bernard Rudofsky's "Are Clothes Modern?" to the recent travelling exhibition "Skin + Bones: Parallel Practices in Fashion and Architecture," pluralistic curatorial approaches have brought these two disciplines into deeper and more fruitful collaboration.
In the case of BLESS N°60 Lobby Conquerors at the Biennial, the result is a fantastical game of dress up and an after-the-fact collaboration between designers that—given the BLESS' social media star power and its focus on the everyday—will no doubt be felt far beyond the galleries of the Cultural Center.


Explore more work by BLESS and more connections between architecture and fashion in the Biennial's Are.na channel below. Or visit the Biennial's profile to add to its collection of images, links, and resources
Emma Macdonald is an Ideas City Fellow at the New Museum of Contemporary Art in New York.
The Chicago Architecture Biennial blog is edited by Consortia, a creative office developing new frameworks for communication around design and culture. The blog also contains embedded content from Are.na, an online platform for connecting ideas and building knowledge.